APT37 Unleashes Chinotto Malware
North Korean defectors, journalists, and entities in South Korea are being targeted in on by a nation state sponsored APT tracked as ScarCruft, also known as APT37 aka Reaper Group
The actor utilized three types of malware with similar functionalities: versions implemented in PowerShell, Windows executables and Android applications,although intended for different platforms, they share a similar command and control scheme based on HTTP communication. The malware operators can control the whole malware family through one set of command and control scripts.
ScarCruft is known for targeting public and private sectors situated in South Korea with an aim to plunder sensitive information stored in the compromised systems, and has been previously observed using a Windows based backdoor called RokRAT.
The primary initial infection vector used by APT37 is spear-phishing, in which the actor sends an email to a target that is weaponized with a malicious document.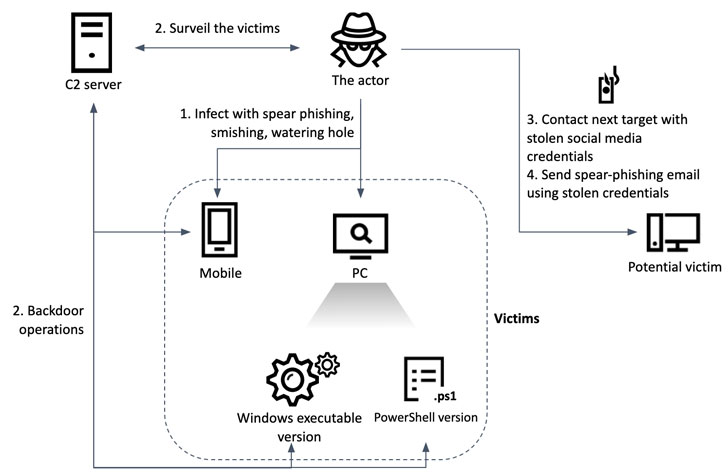 The Threat actor reached out to the victim's associates and acquaintances using stolen Facebook account credentials to establish initial contact, only to follow it up with a spear phishing email enclosing a password-protected RAR archive that includes a Word document. This decoy document claims to be about "North Korea's latest situation and our national security."
Opening the Microsoft Office document triggers the execution of a macro and the decryption of the next-stage payload embedded within the document. The payload, a VBA, contains a shellcode that, in turn, retrieves from a remote server the final-stage payload with backdoor capabilities.
The operators managed to collect screenshots, before deploying a fully-featured malware called Chinotto in late August to control the device and exfiltrate sensitive information to a C2 server.
Chinotto comes with its own Android variant to achieve the same goal of spying on its users. The malicious APK file, delivered to the recipients via a smishing attack, prompts users to grant it a wide range of permissions during the installation phase, enabling the app to amass contact lists, messages, call logs, device information, audio recordings, and data stored in apps such as Huawei Drive, Tencent WeChat (aka Weixin), and KakaoTalk.
Many journalists, defectors and human rights activists are targets of sophisticated cyberattacks. Unlike corporations, these targets typically don't have sufficient tools to protect against and respond to highly skilled surveillance attacks.
Indicators of compromise
baa9b34f152076ecc4e01e35ecc2de18
7d5283a844c5d17881e91a5909a5af3
e9e13dd4434e2a2392228712f73c98ef
00df5bbac9ad059c441e8fef9fefc3c1
04ddb77e44ac13c78d6cb304d71e2b86
55afe67b0cd4a01f3a9a6621c26b1a499
3bcbf59ac14e14c1c39a18d8ddf28ee
c7c3b03108f2386022793ed29e621343
5a7ef48fe0e8ae65733db64ddb7f2478
b06c203db2bad2363caed1c0c11951ae
f08d7f7593b1456a087eb9922507c743
0dd115c565615651236fffaaf736e377
d8ad81bafd18658c52564bbdc89a7db2
71b63d2c839c765f1f110dc898e79d67
c9fb6f127ca18a3c2cf94e405df67f51
3490053ea54dfc0af2e419be96462b08
cba17c78b84d1e440722178a97886bb7
56f3d2bcf67cf9f7b7d16ce8a5f8140a
Payload hosting URLs
hxxps://api[.]onedrive[.]com/v1.0/shares/u!aHR0cHM6Ly8xZHJ2Lm1zL3UvcyFBalVyZDlodU1wUWNjTGt4bXhBV0pjQU1ja2M_ZT1mUnc4VHg/root/content
hxxp://www[.]djsm.co[.]kr/js/20170805[.]hwp
Command and control server
hxxp://luminix[.]openhaja[.]com/bbs/data/proc1/proc[.]php
hxxp://luminix[.]kr/bbs/data/proc/proc[.]php
hxxp://kjdnc[.]gp114[.]net/data/log/do[.]php
hxxp://kumdo[.]org/admin/cont/do[.]php
hxxp://haeundaejugong[.]com/editor/chinotto/do[.]php
hxxp://haeundaejugong[.]com/data/jugong/do[.]php
hxxp://doseoul[.]com/bbs/data/hnc/update[.]php
hxxp://hz11[.]cn/jquery-ui-1[.]10[.]4/tests/unit/widget/doc/pu[.]php